How to Scout the Perfect Location for Your Next Video Production
Often you may find yourself limited by your filming space when creating video content for your brand or business. That is why location scouting is such an essential step in any production. Every project is different. 
To help you make an informed decision when choosing your next film location, we've outlined important considerations to help bring your vision to life, including the pros and cons of each type of production space.
1. Define the scope of the project
2. Consider the number of people involved
3. Choose the location that best suites your project
4. Determine the cost and budget amount
Define the project's scope – what are the goals and objectives of the production?
Start by stating the project's goal and work backward to determine everything you need to bring that vision to life.
Are you shooting a commercial for a golf company? Are you interviewing your team for marketing videos? Are you just shooting product photos for your new website?
Knowing the scope of your project will help you when location scouting, as well as what kind of equipment and personnel you'll need. Consider any special effects or lighting required and what steps you'll need to take to ensure they're achievable at your chosen location.
Consider the number of people involved in the production & your equipment needs.
How many people do you need on set? Do you need an entire crew, or can you get away with just a photographer and videographer? A major marketing campaign may require gaffers,  grips, hair and makeup artists, production designer, and more, and you'll need a location to accommodate their needs.
Equipment-wise, if you're shooting a commercial for example, you may need multiple cameras, lights, sound equipment, props, and costumes. If your shoot is large, your chosen location should have a lighting grid, enough outlets, and power sources.
Ensure the location has a stable and fast connection for productions requiring live streaming or seamless uploads.
Once you've defined the scope of your project and considered the number of people involved, it's time to start scouting locations. In some cases, you may need more than one location.
The different types of locations for your video production
Before you begin your location scouting,  let's look at the different locations and their uses for various kinds of productions. Here are four different types of production spaces to consider:

Photo Studios
Photo studios are perfect for creating in a controlled environment that does not require extensive setup. Photographers benefit from having complete control over lighting.
They are typically equipped with various backdrops and pull-down screens, making them ideal for simple productions.
Fashion shoots, headshots, and product photography can all be shot in a photo studio. However, they are unsuitable for bigger productions such as films or commercials due to the limited amount of space and not being soundproofed.
Pros:
• Flexible – you can customize the look of your shoot
• Easy to set up and break down
• Cost-effective
• Control over lighting
• Backdrops may be available
Cons:
• Limited in size and scope
• Not suitable for bigger productions such as films or commercials
• It may not be soundproofed

Soundstage
A soundstage is a large room designed for shooting films or commercials. They can accommodate larger projects with multiple crew members and equipment.
Soundstages are soundproof, giving you more control over the sound of your production. They also have lighting grids and other equipment that help create the desired look for your production. The additional space also allows opportunities to build sets for your production.
Some soundstages, like The Film Hub's Backlot, include a giant green screen wall for those who need to key out subjects. 
Soundstages are ideal for music videos, interviews, commercials, television episodes, or feature films.
Pros:
• Ideal for bigger productions
• Soundproofed
• Access to a lighting grid and other equipment
• It can accommodate multiple people
• Ample space for sets and props
• White or Green  cyclorama walls
• Available anytime (not limited to real location restrictions Example: off hours for restaurants)
Cons:
• It can be expensive to rent
• It may require additional crew and equipment rentals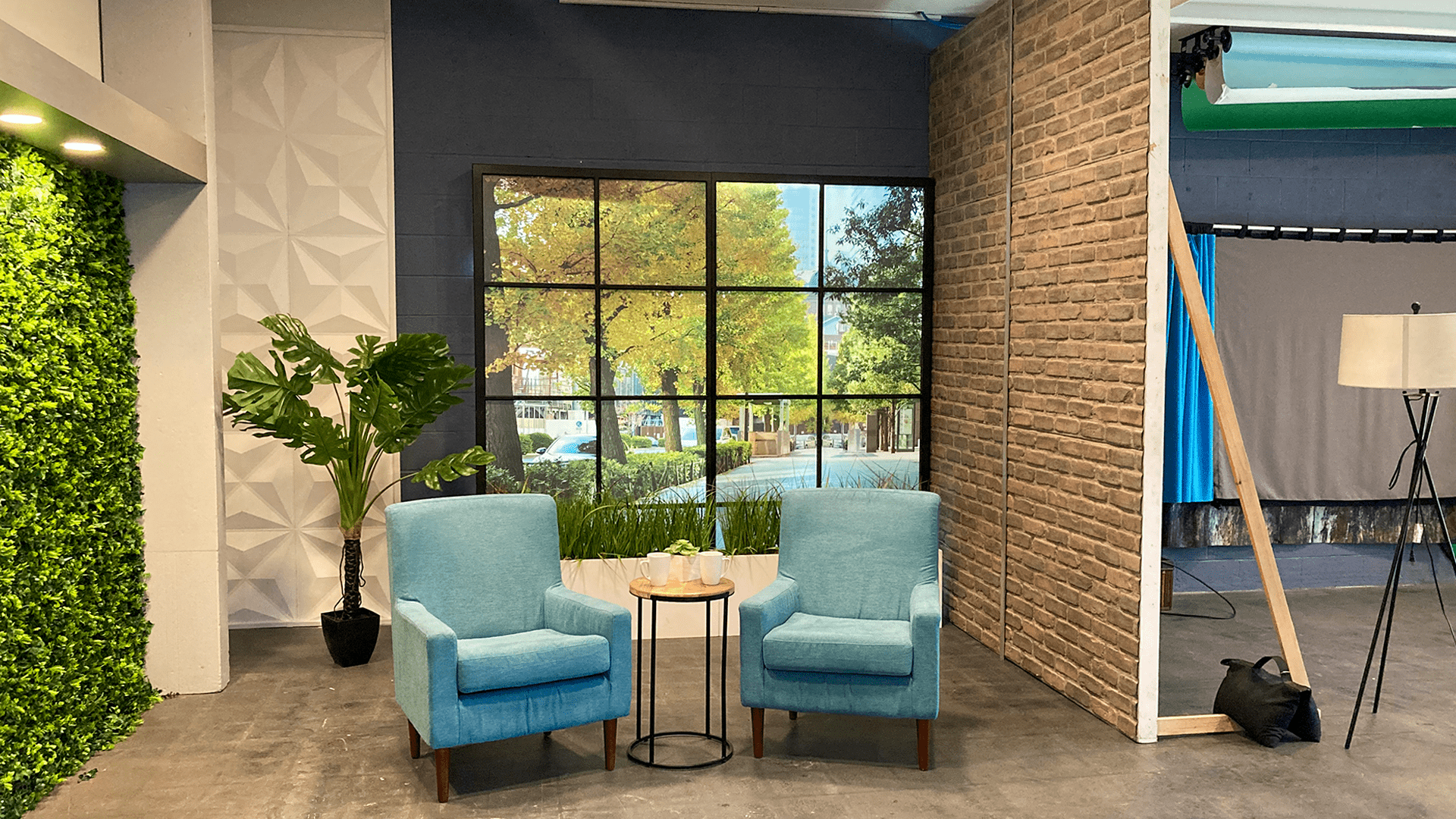 Standing Set  Studios
Standing set locations can be a cost-effective and flexible alternative for smaller projects looking to achieve a specific look. Standing sets are already constructed in stages. 
This eliminates the need to build a set, saving time and money. Standing set stages with prebuilt sets include scenes for hospitals, offices, bars, schools, and more.
The biggest drawback with standing sets is that they are fixed in style and they cannot be customized, or may require additional fees for any changes.
Pros
• Cost-effective and flexible
• Prebuilt sets save time and money
• A variety of set options are available
• Can accommodate both small and large productions
Cons
• Cannot customize the look of the sets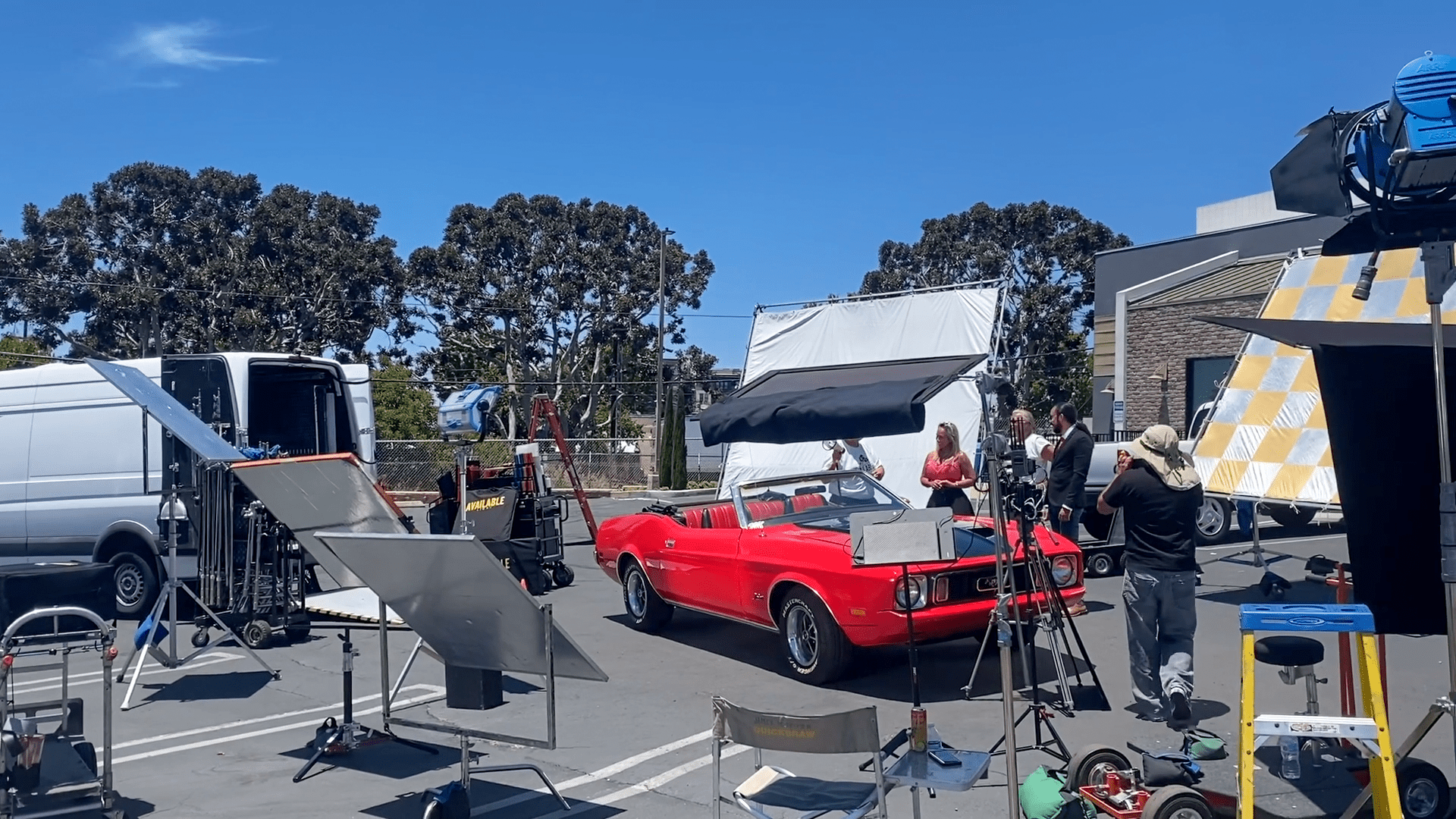 Physical Locations 
Physical locations can create an immersive experience for viewers but also present more logistical challenges due to weather or other environmental conditions. 
Physical locations can save you money, however, you'll need to consider factors such as the number of crew, availablity restrictions, lighting, and soundproofing, While these can be more costly and time-consuming to manage, the result may make it worthwhile for your project.
Be mindful of local laws and regulations when filming in a physical location. You may need to obtain permits from the local municipality and ensure you have permission to be filming on the premises.You may also need to get releases from artwork in location.
Pros:
• Authentic look and feel 
• Can create an immersive experience
• It may be less expensive due to not needing to build a set
Cons:
• Could be costly and time-consuming to work around availability 
• Weather or environmental conditions can be unpredictable, such as lighting
• Noise control may be an issue
• It may require permits or permission to shoot in specific locations.
Determine the cost and budget for the project.
When budgeting for your next shoot, include location fees or permits, and other costs. 
However, the soundstage may offer advantages regarding access to lighting grids, Cyloramas , and other equipment that may only be available at some locations.
Choose the production space that best fits your needs and budget. Knowing what sets and equipment you need for your project will make location scouting for your shoot an easier process.
You should also factor into your budget any post-production costs. This includes editing, sound design, color grading, and other necessary steps to complete your project.
With a budget established, you can begin location scouting to find the right fit for your project.
Stage 1 & Backlot (52′ x 42′ Soundstage)
3,500sq.ft Studio surrounded by our Private 5-acre Backlot, great for tv pilots, feature films, commercials, and more
• Pre-lit two-wall Green Cyclorama 30'W x 36'D x 15'H
• Pre-lit two-wall White Cyclorama 22'W x 20'D x 15′H
• Drive-In Loading Door 12.5'W x 14'H 
• Lighting grid 38'L X 28'W X 17'H
• 400 Amps 3 Phase Distro Box
• 3 Makeup and Hair Stations, Wardrobe Room & Green Room
• 5 Acre Backlot Including Vineyard, Pool, Outdoor Stage and Performance Area, Gazebo, Country Setting, Bamboo Backdrop, Or Grassy Landscape
Stage 2 (50' X 27' Soundstage)
Soundproof stage great for live streaming, music videos, and commercials
• Pre-lit Three Wall White Cyclorama: 27'W x 15'D x 15'H (24'' curve)
• Built In Raised Curved Platform 25'W x 14'D x  1'H
• Load In Auxiliary Space
• Lighting grid
• 300 Amps Dedicated
• Green Room with Makeup and Hair Station
Stage 3 "The Cafe" (60′ X 35′ Space) (standing set)
The cafe was designed as a set kitchen, restaurant, cafe, and exterior alleyway for your productions or events; great for food photography, cooking videos, and commercials.
• Fully Functional Set Kitchen
• Gas Cooktop, Oven, Microwave, Refrigerator, & Dishwasher
• 700 sq. Ft. Exterior Building Façade
• 2 Lighting Grids
• 2 Roll Up Glass Garage Door Windows & Bar
Photo Studio (17' x 28') (10' 1" ceiling height) (standing sets)
Affordable Compact Studio For Product Shoots, Stop Motion & Headshots
• Standing set with LED windows
• 10'W x 5'H headshot fabric backdrops
• Backdrops: black, grey, blue, coral, sage green, wood planks
• Three 4' x 1' LED Light panel Kelvin temperature presets: 3000, 4000, and 5000