We built The Film Hub because you deserve more from your workspace. Welcome to a community-based, collaborative environment with offices, sound stage studios, and event space attached. Every business needs to create so much content these days, we make it easier to "get shit done"!  Stop trying to be creative in a bland coffee shop or on your kitchen table, your work will thank you. Schedule a tour at The Film Hub and come see our friendly and inspiring facility where you will create your best work.
three-box
Coworking

Office Space
Audio & Video

Soundstages
Prefab Set rentals

and Designs
Podcast studio

rentals
Classes & Meetings

space
In person & Live stream Event Venue
facilities
Audio & Video Soundstages to achieve professional Marketing and video work.
Stage 1   50′ x 42′ white and green cycloroma
Stage 2  50′ x 27′ White cycloroma and live stream stage
Stage 3  65′ x 35′ Standing sets
Photo Studio  28′ x 17′
Podcast studio
Prefab Set rentals and Custom Designs built for your next video project
Flats, windows, doors, flooring & set pieces rentals
Furniture rentals
Kitchen & Dinning set
Interview & talk show sets
Doctors Offices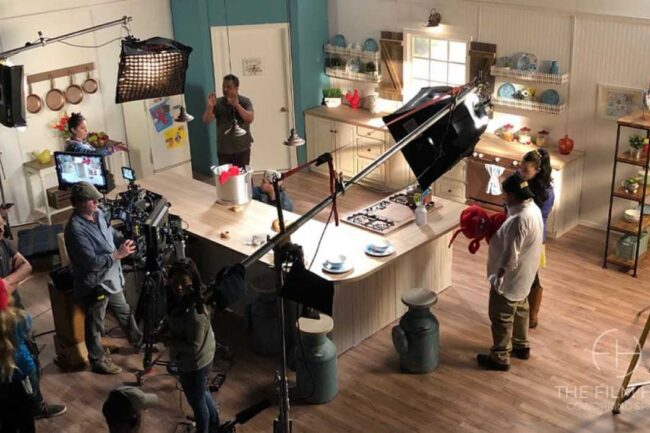 An Event Venue for your next corporate event or party.
Corporate Events
lives stream conferences
Webinars
My home town of Vista here now has this amazing place where like them in many ways community is created. At the Nammshow its about bringing people together to collaborate to work together from all different cultures around the world and I think what we have now here in Vista with The Film Hub is the same thing, bringing creators together, bringing people together to collaborate and work together to create wonderful outcomes like we just did with our NAMM Board meeting in the studio today.