How to Decorate for the Holidays Like a Set Designer
As we enter the holiday season, many of us plan to make our homes feel festive and inviting. If you're stuck on ideas, why not take inspiration from those in the know— such as a set designer?
Lauren Fehlhaber is a professional set designer and art director with over 12 years of experience in the film industry. She has worked on small and large productions and knows all about creating a visually appealing space. 
Here are her tips for sprucing up your home this holiday season:
Start with a plan and pick a theme
When decorating for the holidays, starting with a plan is essential. Think about the atmosphere you want to create in your space and what theme will help you achieve it. Then, determine the decorations that will help you bring that vision to life. Do you want a classic look with traditional red and green ornaments? Or do you prefer a more modern approach with metallic accents and minimalist decor?
Once you've selected a theme, start picking colors to create the desired feeling. For example, go for earth tones if you want a warm and cozy atmosphere, or introduce brighter colors for a more festive look. Make sure to choose colors that match or are cohesive to your existing paint and home decor. 
Lauren chose Winter Wonderland as the theme for our backdrop, with white, gold, and green making up her color palette. By selecting a theme and color palette, Lauren can choose holiday decor that stays within those restrictions, ensuring a cohesive look for her holiday setup.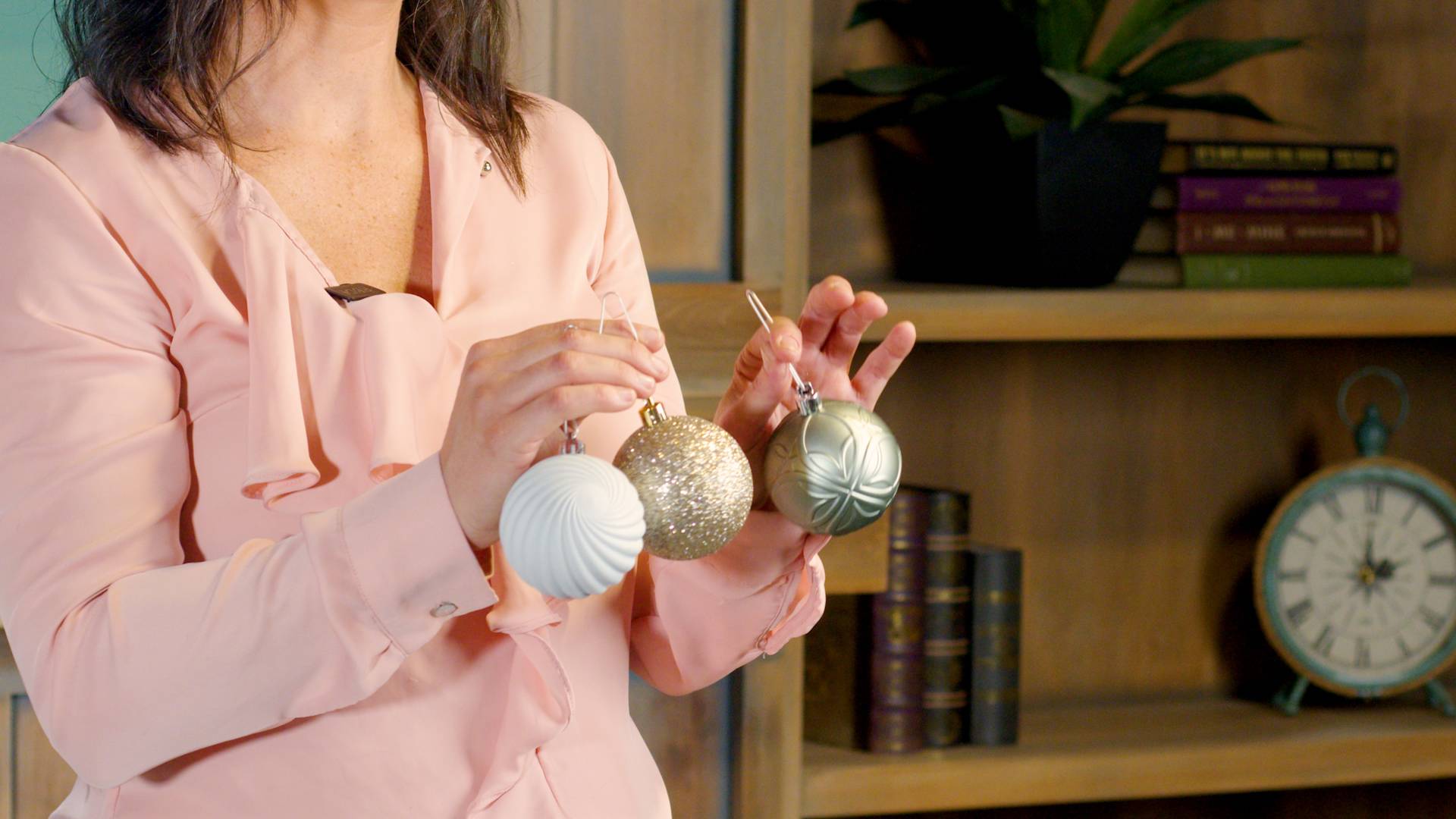 How to Decorate a Minimalist Christmas Tree
Christmas trees are the centerpiece of any holiday decor, and a minimalist Christmas tree can be the perfect way to create a chic and stylish holiday look. Since Lauren settled on a Winter Wonderland look, she chose to go with a pre-flocked tree for a natural winter feel. Flock is artificial snow sprayed directly onto the tree for a "just fell in" look.
You can always add additional flocking if needed, but be sure not to go overboard. Too much snow and your tree will appear cluttered and messy.
Instead, focus on creating a simple, wintery look with just a few decorations. Keep it simple and elegant, and your tree will look amazing!
Once your tree is picked, it's time to start decorating! This is where you get to let your inner set designer shine. The key is to use simple, minimalist decorations and ornaments that will pop against the snowy backdrop. Lauren alternates her ornament placement, never leaving blocks of isolated greens or golds.
And finally, know that you don't have to have a star at the top of your Christmas tree. Get creative and have fun with it. Lauren created an arrangement for the tree using pine needles and pine cone wreath decor 
The key is to choose items that complement the overall theme and keep it simple.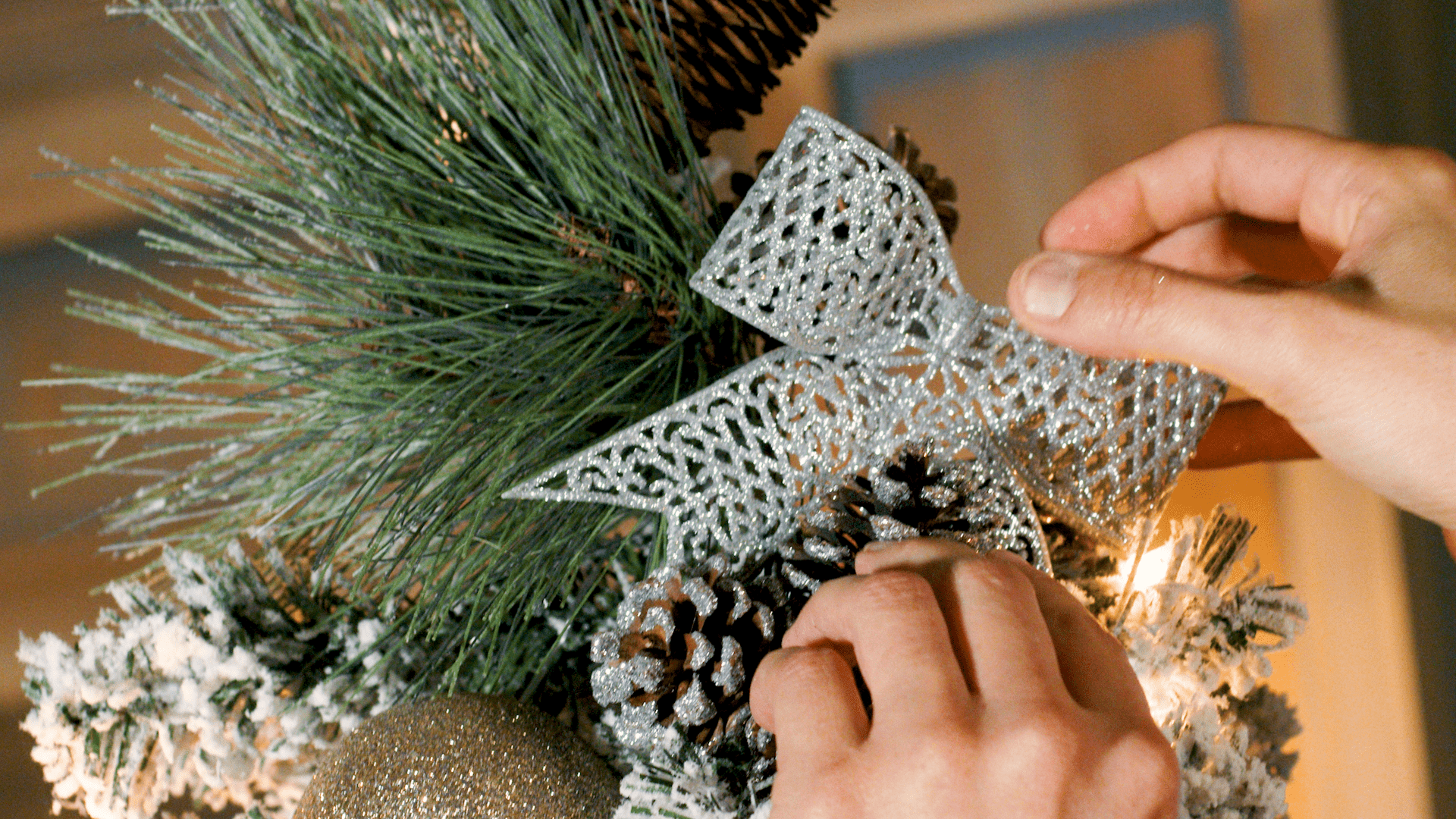 Stringing and adorning your holiday garland
So now it's time to start stringing garland. One of the easiest ways to add holiday cheer is draping garland across mantles, staircases, and doorways. Many types of garland are available and easily accessible at most craft stores, so finding the perfect one is easy.
The garland Lauren chose did not come pre-flocked; therefore, she had to add her own snowfall. The snow she used comes from a stage company that sells fake snow for stage purposes. However, you can readily buy fake snow on Amazon or make your own by taking styrofoam and using a cheese grater to create a snow-like material.
While Lauren kept it simple with the all-white snow, you can always add some white glitter to add a little extra sparkle to your garland. 
This holiday season, why not try something new with your mantle decoration? In addition to the traditional garland and stockings, try adding a few mini trees or candles to introduce additional variation and height. This will give your mantle a more polished look and an eye-catching look.
You can find these items at home goods stores or order them online. Give your mantle a makeover this holiday season!
If you have some old fairy lights or Christmas lights handy, now is the time to add them. Stringing lights for a Winter Wonderland look is a great way to set the mood and create ambiance in your home.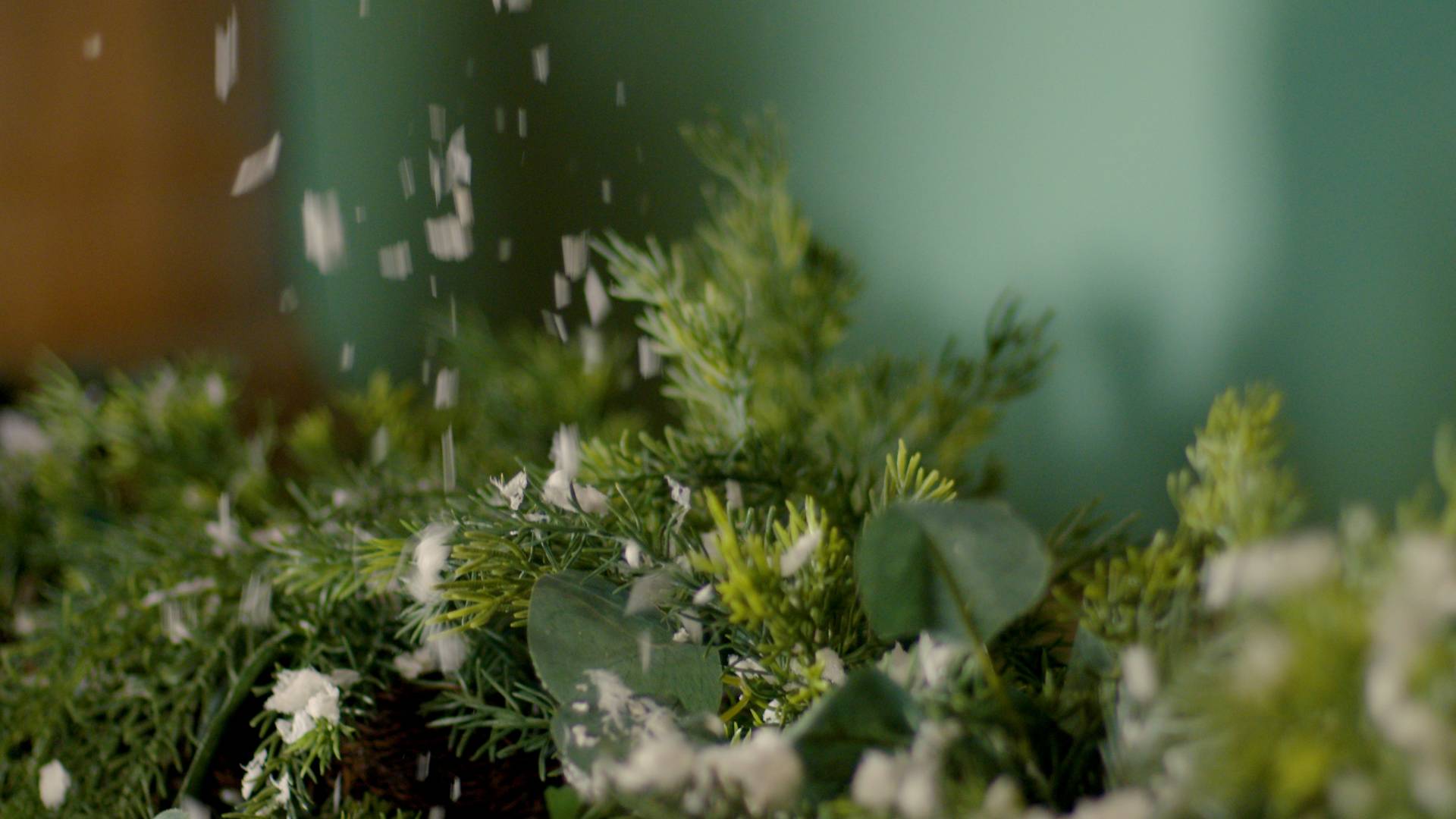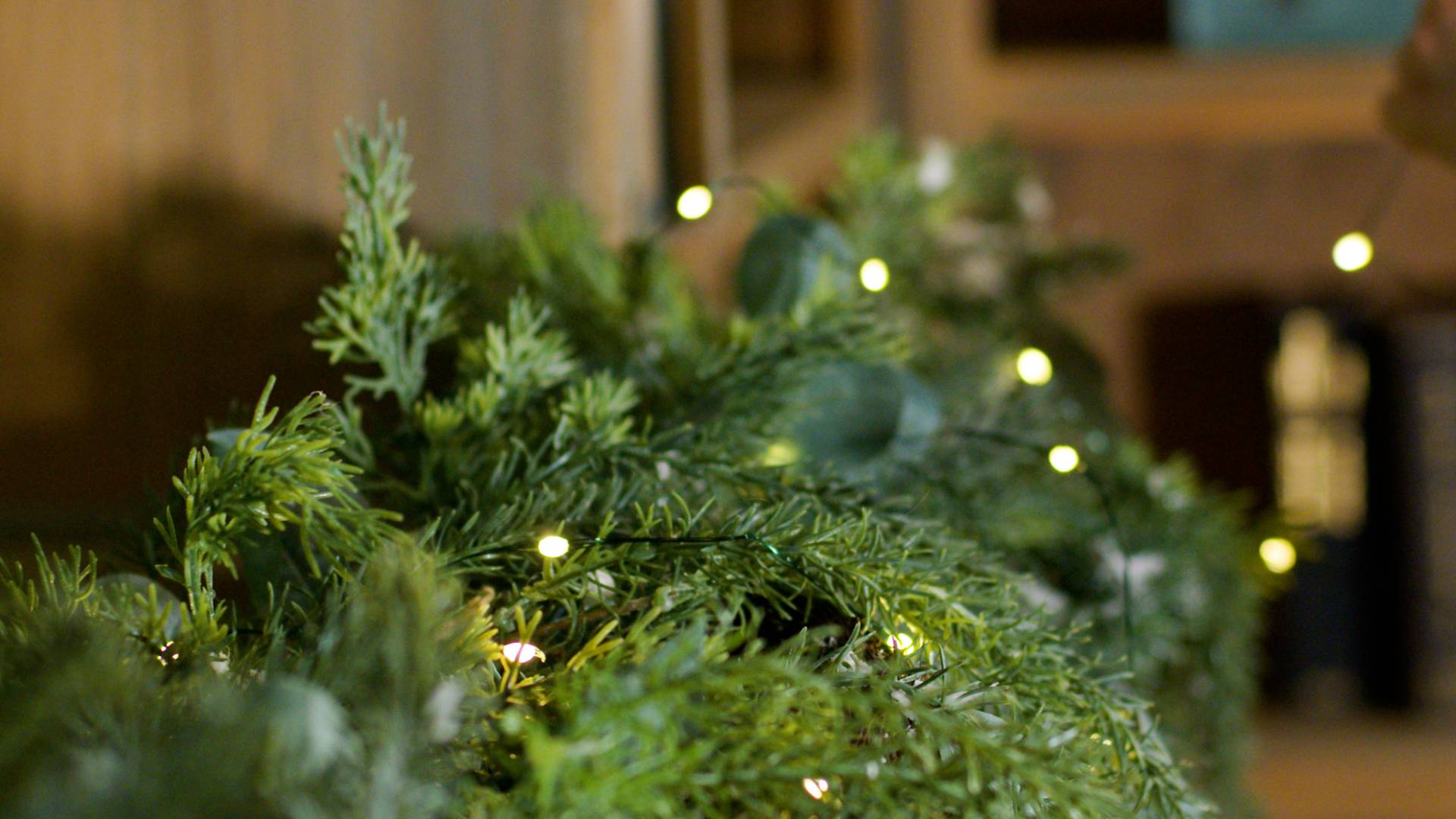 Bringing it all together with stockings
Finally, it's time to hang the stockings! Stockings are a beloved holiday tradition and are the perfect way to add a personal touch to your holiday décor.
You can find stockings in various styles, colors, and sizes at most stores. Or, if you're feeling extra creative for the holidays, you can make your own stockings.
No matter which route you take, just be sure to hang the stockings high up on the mantel so that Santa can quickly fill them with special holiday treats!
To match the theme of Winter Wonderland, we used white knitted stockings and grouped them on the mantle. Many people like to spread them out, but Lauren chose to group them to the right of the mantle, which allows the white of the stockings to counter the white of the Christmas tree for balance and to create a captivating look.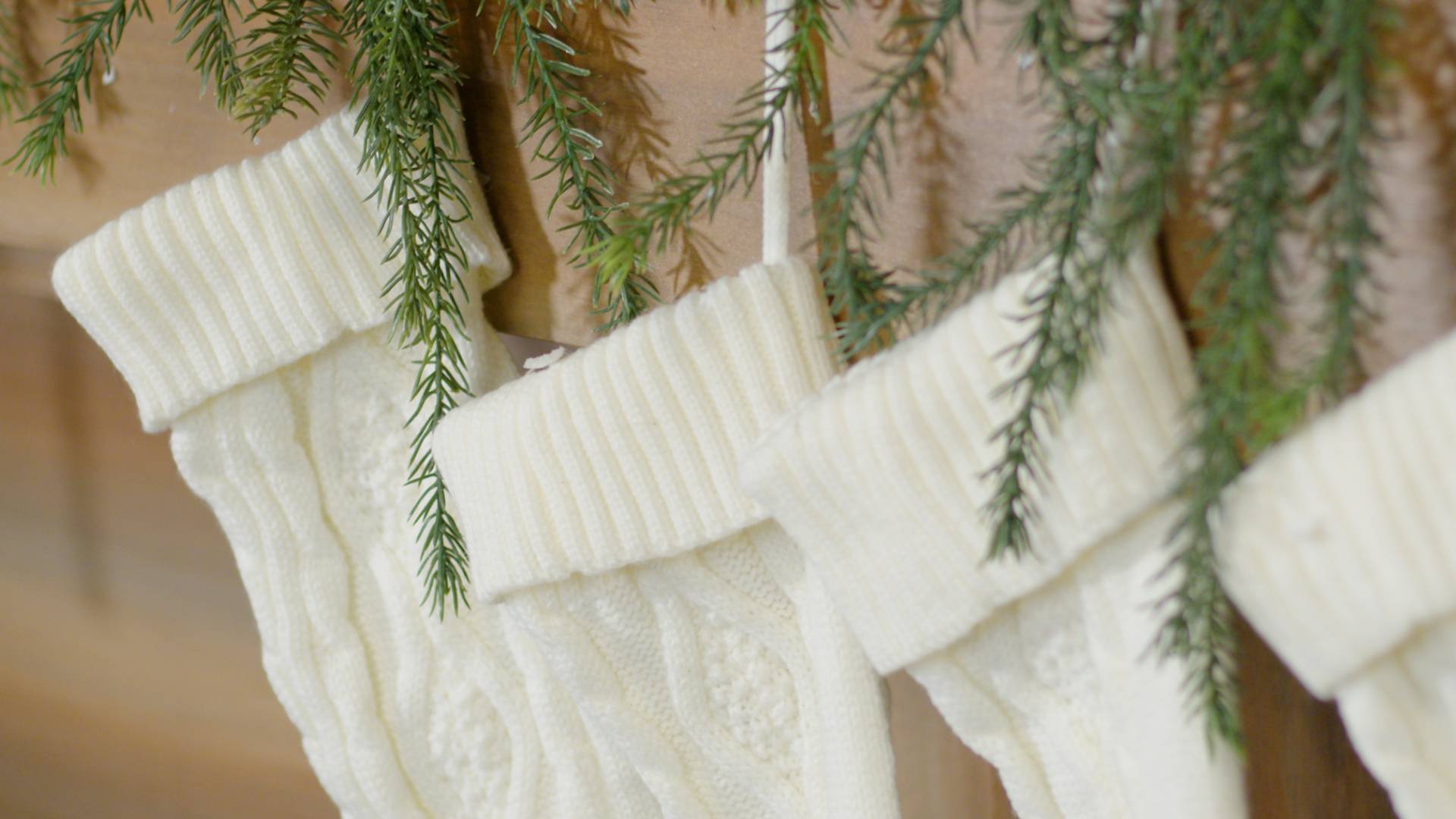 By following these tips, you can learn how to decorate for the holidays with a set designer's eye. With a bit of creativity, you can turn your home into a festive and inviting space and add some much-desired holiday cheer. Remember to have fun with it and be creative with your holiday decor. With some imagination, you can transform your home into a festive and cozy winter wonderland!